The Dodge Charger is one of America's most revered performance namesplates. Originally an icon of the muscle car era, the Charger has been reborn as an affordable performance sedan. While this latest version of the Charger may not be the two-door muscle car you remember from the 1960's, the Charger models combine 4-door functionality with modern HEMI power. So if you're looking for even more performance out of your Charger, look no further than ProCharger.
ProCharger offers intercooled supercharger systems and tuner kits for 6.4L HEMI powered Chargers. ProCharger HO Systems and Tuner Kits offer a gain of 200+ HP with only 7 psi, and 215+ HP with the optional race intercooler upgrade. That's 700+ HP with a single bolt-on!
Systems and Tuner kits feature the patented and proven, self-contained P-1SC-1 supercharger, a highly effective air-to-air intercooler and the ability to be bolted directly to a stock HEMI engine with no additional modifications. When it comes to providing safe and reliable performance, ProCharger leads the industry with thoroughly-tested and proven supercharger solutions for late-model HEMI's.
BUILD & PRICE BELOW:
Kits starting at $7,148.
Pricing on these units vary by configuration.
Configure your purchase now.
PLEASE NOTE: Pricing on this website reflects the June 30, 2022 Application Price Guide. No surcharges are currently in effect.
BUILD & PRICE
Tuner Kits: These kits make sense for someone wanting to perform custom tuning of the car and push the envelope in performance. Will most likely be experimenting with alternative fuels such as 93 octane, race fuel, E85 fuel, and methanol supplemental fuel. In addition, possibly changing engine components like heads, headers, exhaust, and cams for the engine.No tuning or fuel components provided.
Want to learn about HO vs. Stage II, Tuner Kits vs. Systems, Intercooling tech and much more? Click the button below to visit the ProCharger 101 page.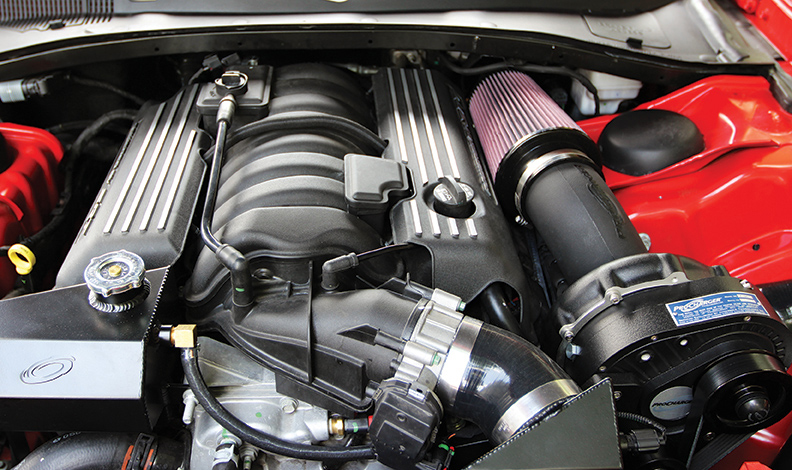 WHAT'S INCLUDED:
HO System:​
Shared 6 rib supercharger belt drive system
OEM quality bolt-on design and finish
Belts can be changed without removing supercharger
Pulleys can be changed without removing supercharger
Tuning setup provided, including handheld tuner
Easy install with common hand tools
No cutting required, 100% bolt on and reversible
Stage II System:
Same as HO system plus additions below:
8-rib dedicated belt drive system for maximum power transfer
OPTIONS
For both our Complete Systems and Tuner Kits, we offer more options than any competitor and give you the chance to customize your system or kit the way you want it.​
Polished, Black or Satin Supercharger finish
Polished, Black or Satin Bracket finish
Race Intercooler upgrade
Helical Gear set for Noise Reduction (P-1SC-1 & D-1SC only)
P-1SC-1 up to F-1A-94 head units available
Race Bypass Valve upgrade (for cars over 750HP, or those that want a loud bypass)
SPEAK TO AN EXPERT
Click to call our sales staff or email us if you need any help. We will be happy to assist you with any questions you may have.
Mon – Fri 8am – 5:30pm MST
Phone – (720) 432-0269
Sales Email – sales@speedmafia.com
CONTACT US
Get a Catalog
Our catalogs feature much of this detail. You can either download a copy or have one mailed to you free of charge.
Free Catalog
CALIFORNIA EMISSIONS COMPLIANCE INFO (CARB)
California approved products for street legal use (complete systems) will have an associated CARB EO# for compliance. For a full list of California and 50 state street legal systems, click below.
CARB EO LIST